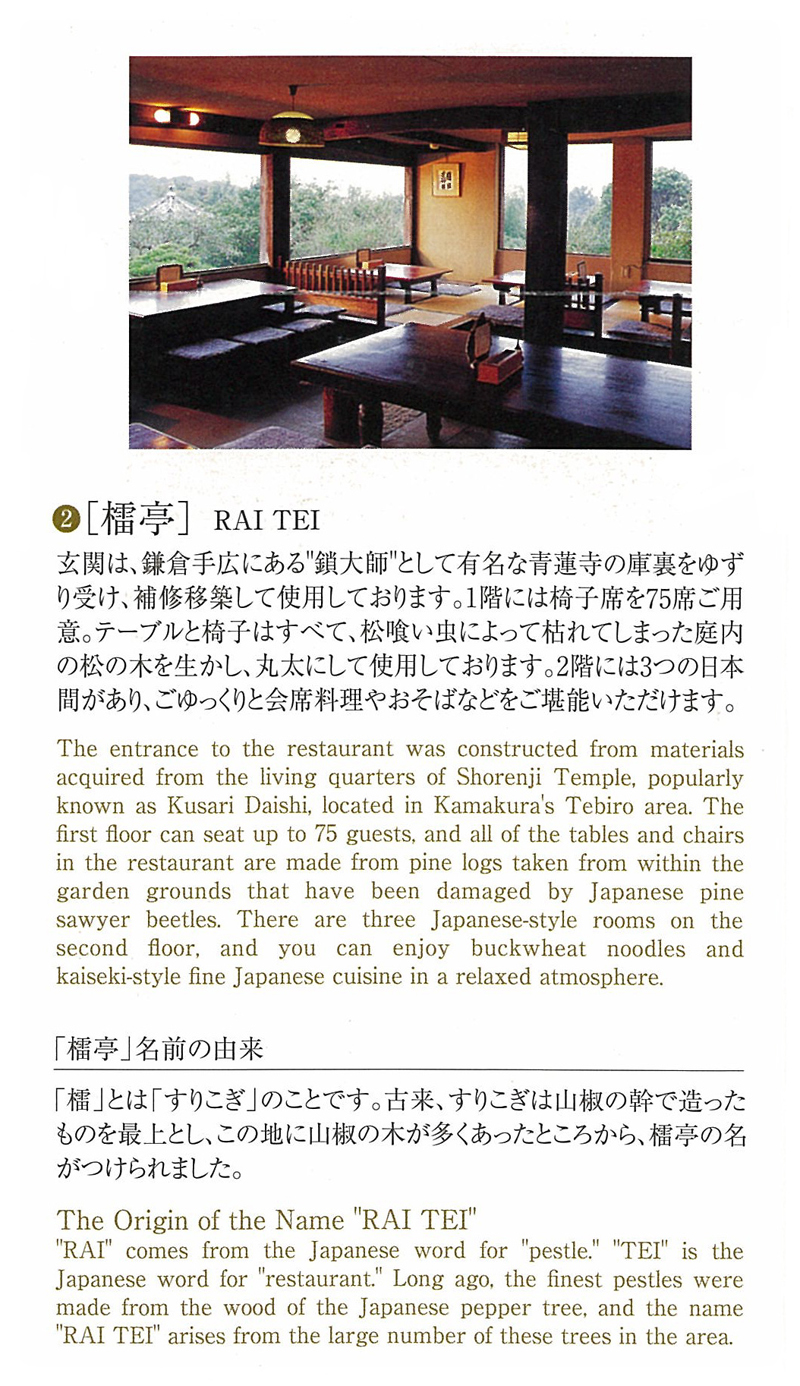 2 檑亭
玄関は、鎌倉手広にある"鎖大師"として有名な青蓮寺の庫裏をゆずり受け、補修移築して使用しております。1階には椅子席を75席ご用意。テーブルと椅子はすべて、松喰い虫によって枯れてしまった庭内の松の木を生かし、丸太にして使用しております。2階には3つの日本間があり、ごゆっくりと会席料理やおそばなどをご堪能いただけます。
2 RAI TEI
The entrance to the restaurant was constructed from materials acquired from the libing quarters of Shorenji Temple, popularly known as Kusari Daishi, located in Kamakura's Tebiro area. The first floor can seat up 75 guestes, and all of the tables and chairs in the restaurant are made from pine logs taken from within the garden grounds that have been damaged by Japanese pine sawyer beetles. There are three Japanese-style rooms on the second floor, and you can enjoy buckwheat noodles and kaiseki-style fine Japanese cuisine in a relaxed atmosphere.
「檑亭」名前の由来
「檑」とは「すりこぎ」のことです。古来、すりこぎは山椒の幹で造ったものを最上とし、この地に山椒の木が多くあったところから、檑亭の名がつけられました。
The Origin of the Name "RAI TEI"
"RAI" comes from the Japanese word for "pestle". "TEI" is the Japanese word for "restaurant". Long ago, the finest pestles were made from the wood of the Japanese pepper tree, and the name "RAI TEI" arises from the large number of these trees in the area.